Meet patented combs 'Ticking-E' – for smart, clean consumers.
ticking_e beauty treatment brush is designed to raise comb bottom if pressing reverse button of hand grip when cutting hair. It is a patented smart comb which is simply, hygienically & automatically managed. The brush which combs hair is quite solid, well stretching hair straightforward and massaging scalp excellently. Further, this product is hardly warped nor transformed despite of long-time use thanks to its excellent durability and integrity.
ticking_e pet brush can remove & clean densely-entangled pet hair without leaving even 1 hair by simply pressing button. Ticking which is properly devised for pet brush produces elegant design of brush for pet animal. Wide brush with horizontal width of 10cm & vertical width of 7cm easily arranges hair of pet animal & minimizes skin irritation with soft & round brush, promoting blood circulation. As pet hair is remove in just 1 time with premium hygienic clean cover function, hygienic use and convenience is ensured.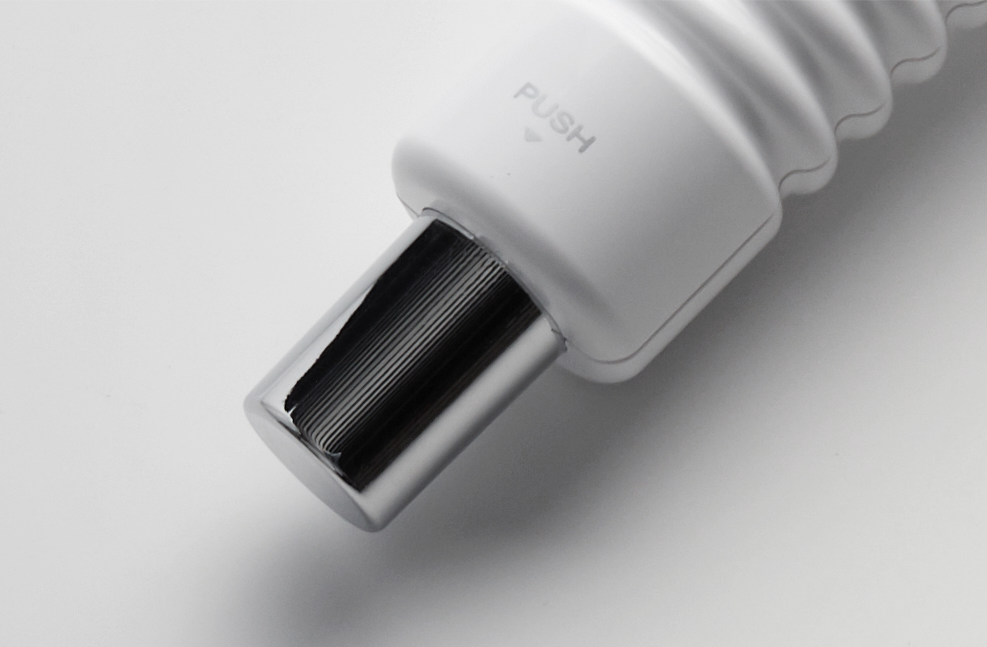 Ticking! Easy Button
Special one-touch hygienic button of ticking_e brush! Hair is easily remove with 1-time tick press function.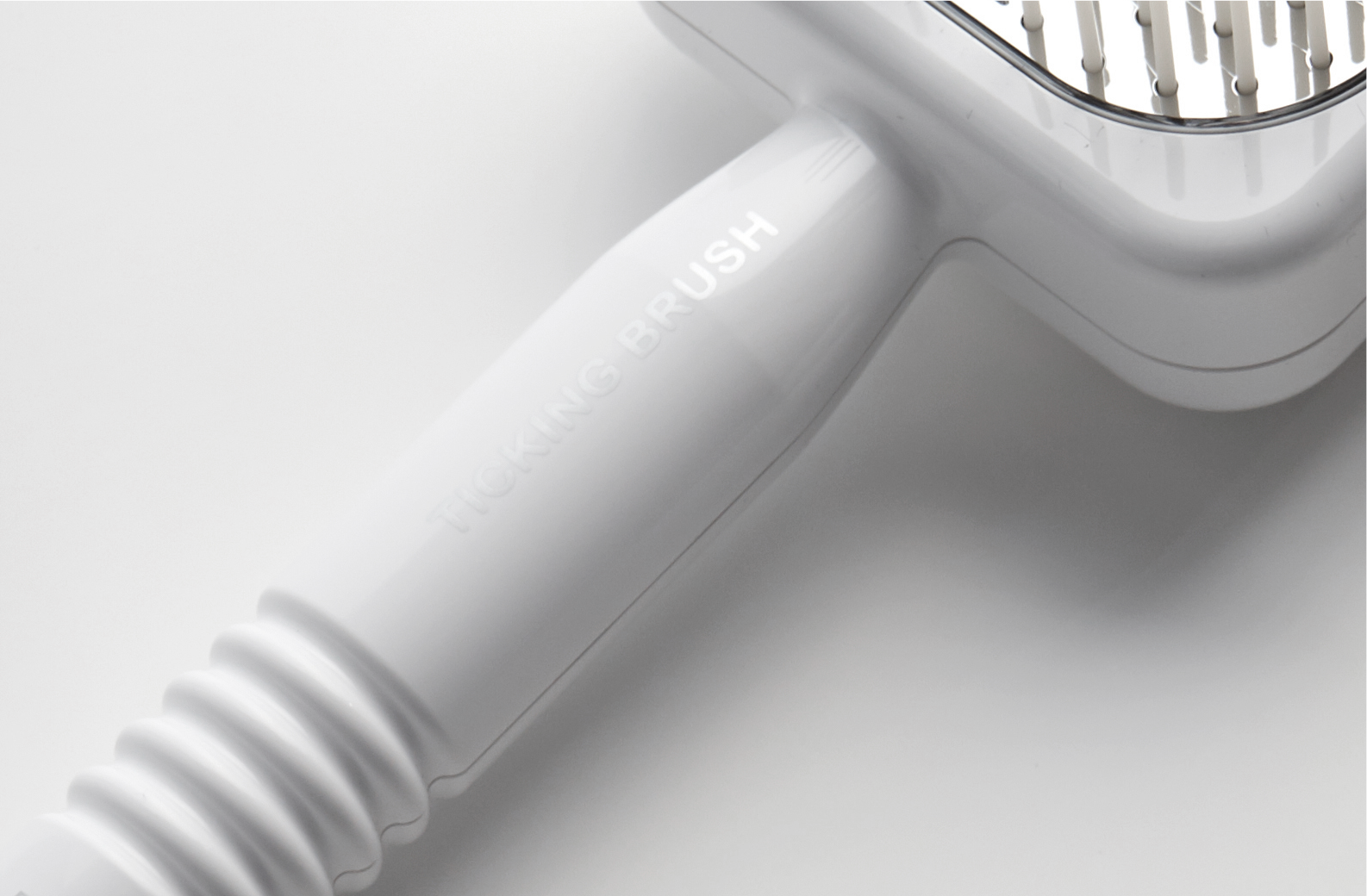 Ergonomic Design
Hair is effectively managed thanks to easily usable hand grip which can be easily gripped by both children and adult as well as wide brush.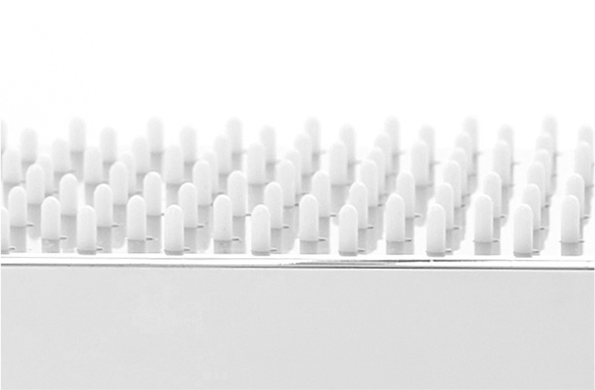 Flexible R
ound Comb
Flexible brush made of anti-static coating materials minimizes damage of entangled hair and helps managing healthy hair with scalp massage.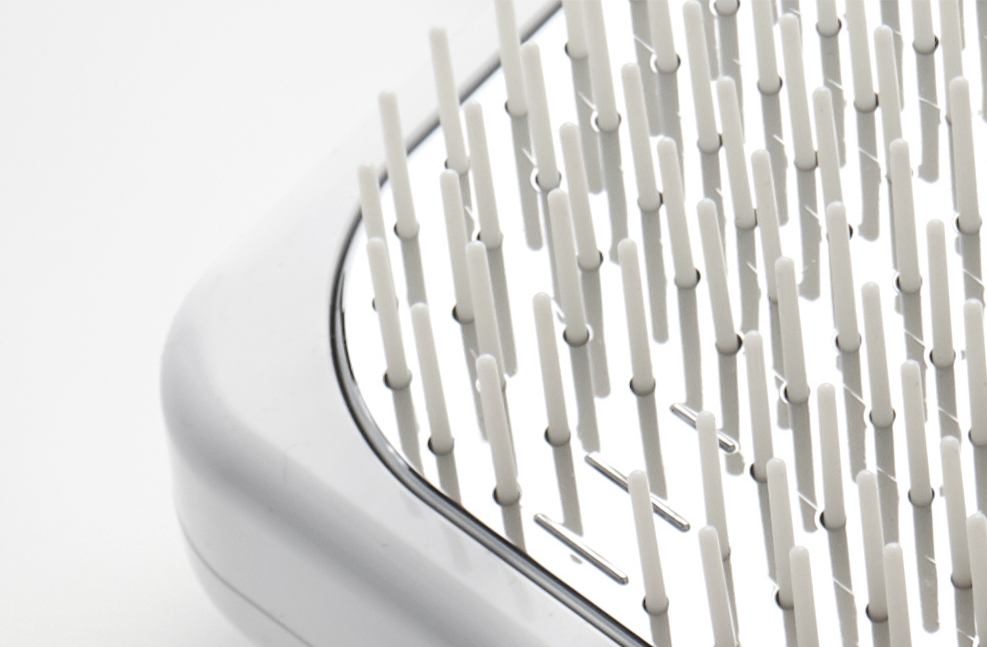 Premium Hygiene Clean Cover
Since hair entangled on brush is easily and immediately removed thanks to perfect and excellent design, brush and scalp are hygienically managed.
ticking_e is an innovative product which breaks the existing idea on comb. As there is no chasm between brush & bottom of comb, no filthy foreign substance is left. Since minimalism is prevalent these days, enjoy convenient, neat & smart hair & scalp management with unique design of patented Ticking.
The brush of comb for pet is different from that of beauty treatment comb. Devised suitably for pet hair, it shows distinguished massage effect after it is used directly for pet in several times. After combing pet hair, the cumbersome process of removing hair can be easily shortened with just 1 'Tick'. Why don't you enjoy the distinguished ease with distinct and perfect design of comb which is different from its imitations.
You can enjoy New World as hair jammed in the comb may be perfectly removed with just 1 Tick. Above all, consumers are absolutely satisfied as they no longer see comb which is filthy with entangled and twisted hair after using this beauty treatment brush! – January 2020
Operating pet cafe, I have no inconvenience at all even after using this product. The brush is not rumpled. It is so solid that no other brush is comparable with it. Above all, pet is satisfied! – February 2020
As both my daughter & I have long hair, it is cumbersome for us to comb our hair. It is further cumbersome for us to remove hair jammed in the comb. After combing hair with Ticking, we can easily arrange entangled hair and immediately remove fallen hair simply by pressing button after shampooing. We are absolutely satisfied. – December 2019
When usually combing after shampooing, I prefer solider brush that well arranges hair with neat finish. Ticking has solid brush of comb which has scalp massage function. I prefer especially product of neat design and finish. In that sense, Ticking hair brush is really novel and exceptional product. It well combs hair, which can be immediately removed. – January 2020